Combined GPS and IMU to CAN interface.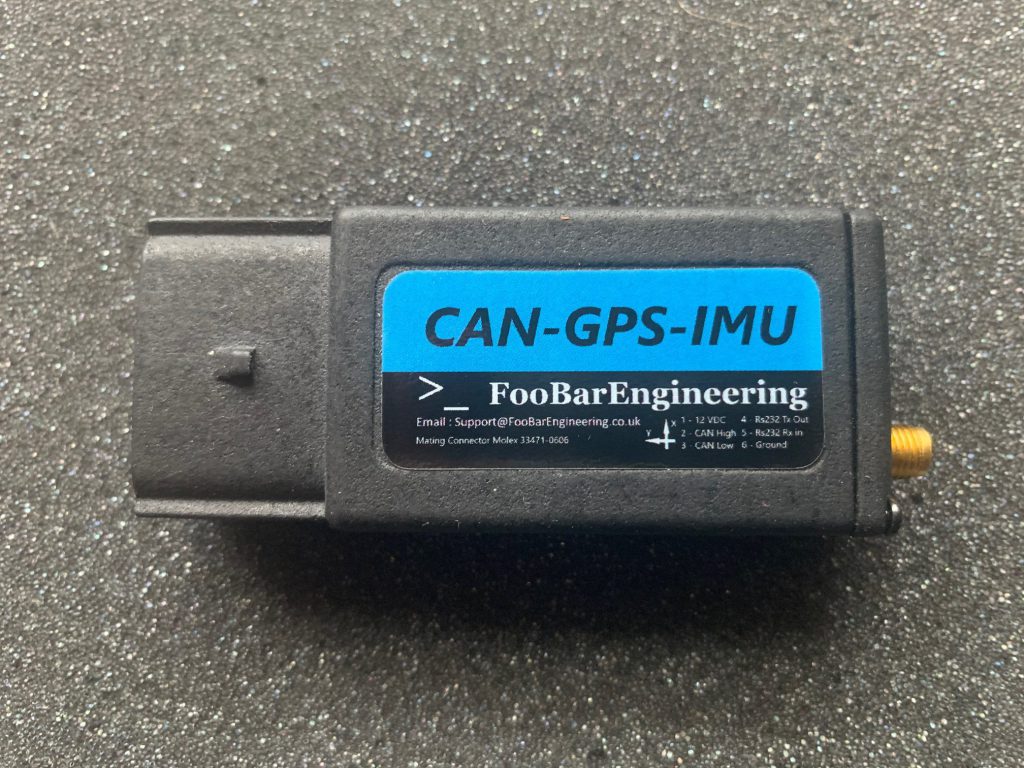 The FooBarEngineering CAN-GPS-IMU is based on the proven WSL range of loggers and designed to interface sensors to the CAN bus.
The unit is housed in a lightweight enclosure with integrated automotive connector.
The CAN-GPS-IMU allows GPS and IMU data to be connected to a CAN network.
The standard CAN-GPS-IMU contains a 20Hz GPS with Unteathered Dead Reckoning (UDR) that gives a location in the poorest signal areas including tunnels, urban canyons and underground car parks
The IMU in the unit produces accelerometer, gyro, magnetometer data and calculates roll , pitch and yaw of the unit in degrees directly within the unit.
The CAN can be defined to include any of the available data via the usb interface, but as standard its compatible with the MoTeC, Cosworth range of dashes and loggers.
| | |
| --- | --- |
| Supply Voltage | 6.5Vdc to 18Vdc |
| Supply Protection | Reverse and over voltage |
| Supply Current | 300mA @ 12V |
| Temperature Range Operating | -30°C to +60°C |
| Temperature Range Storage | -20°C to +70°C |
| | |
| --- | --- |
| 1x CAN | 1Mbit, 512k, 256k, 128k software selectable, with 120 ohm selectable termination |
| 1x GPS SMA | For connection to active GPS antenna |
1x USB (Debug use only) RS232 terminal for setup and in use testing/ offloading of data.
Downloads